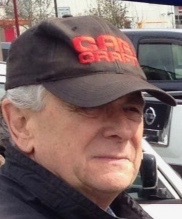 So you've been saved and born again converted. Now what? Where do we go from here?
Well, I know the usual routine is to stay out of sin so I can go to Heaven. Sure, that's a good idea and a pretty good goal to have in life.
What was God the Father's goal when he sent Jesus to die in your place and make you a new creature in Christ Jesus? I don't think so.
What are the Scriptures saying that he has made us new creatures and that everything has become new? Just how far does that go?
Can we dare think that it would go beyond our imagination?  The apostle Paul thought so.
So how about you? Are you ready to stretch yourself into some new territories of imagining how far this new creation will take you?
I am.
YOU CAN GIVE HERE=http://www.georgewatkinsministries.com/help-us.html
WEBSITE= http://www.georgewatkinsministries.com/home-page.html
FACEBOOK=https://www.facebook.com/FaithProducerstv/
Faith Producers address: PO Bx 1006 Mt Vernon, WA 98273
FAITHPRODUCERS INTERNATIONAL PODCAST
https://faithproducers.podbean.com/