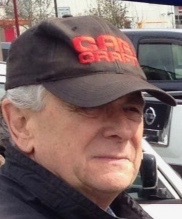 NO GLOOM IN THIS ROOM
Living in his front room. After all, the scriptures tell us, "in the presence of the Lord, there is fullness of joy." God is a happy God. Would you be surprised if I told you that a large percentage of evangelical Christians don't believe that God is a happy God? 
I'm afraid we have been dubbed by our theologians of past centuries that have formed a picture of God out of the Old Testament instead of out of the new covenant. Of course, I get a fair amount of pushback from modern theologians when I suggest a different god dealing with us in the old covenant compared to the new covenant.
Just for a moment, take a snapshot of gods dealings with humanity under the old covenant. It's there we could fall into the hands of an angry god, or if we missed a step or two, we could be swallowed up into the earth family and all.
It's in the old covenant that sins were not forgiven; the blood of animals just covered them. Here we see God bringing judgment, penalties, sickness, and death upon those who opposed him. 
Now take a snapshot of the new covenant through the filter of John 3:16 & 17.
"For God so loved the world that he gave his only begotten son that whosoever believes in him should not perish but have everlasting life,
For God sent not his son into the world to condemn the world but that the world through him might be saved.
Now take a quick peek at Romans eight. There is a long list of things that could come your way, and none of them would change the love God has given you through Jesus Christ.
There's no gloom in this room because this is the father's front room, where we abide forever.
YOU CAN GIVE HERE=http://www.georgewatkinsministries.com/help-us.html
WEBSITE= http://www.georgewatkinsministries.com/home-page.html
FACEBOOK=https://www.facebook.com/FaithProducerstv/
Faith Producers address: PO Bx 1006 Mt Vernon, WA 98273
FAITHPRODUCERS INTERNATIONAL PODCAST
https://faithproducers.podbean.com/
INSTAGRAM DRGEORGEWATKINS
https://www.instagram.com/drgeorgewatkins/